by Engraving Artist: Adone T. Pozzobon June 2002
My newest Lindsay AirGraver arrived several days ago and I must say that once again I'm impressed, even more so then usual and I own four Lindsay gravers. Prior to owning my first Lindsay Airgraver I was a little hesitant to even try one out fearing the change. It was all so new and I wasn't sure I wanted to abandon the tools that had served me in the past even if at that time I was only testing prototypes.

I spoke with Steve Lindsay on many occasions during his first prototypes models and finally came to the conclusion that it was well worth seriously exploring. I learned a great deal about its design, construction and functionality, and realized what a great opportunity and honor it was that I could test his first AirGraver.



Some competitor models were too bulky and cumbersome to use, some had poor flexibility while others offered limited settings and none performed with ultra smoothness. Some ran rougher than others being jumpy when starting impacts making it very difficult produce graceful cuts. The Ultimate Airgraver provides all that is needed even subtle things such as the ability to swap air tubing positions for right or left handed people.

The engraver should consider if the tool they purchase will grow with them rather then they outgrowing they tool. The tool should adapt to the engravers needs in all areas of engraving from the coarsest to the finest work. The 'Classic' Airgraver, and the Ultimate Airgraver, are essentially the same graver but the Ultimate being the most recent update in the design.

Much time has passed since I received my very first Chasing Airgraver and the original Classic Airgraver, thousands of engraving hours later and I'm pleased to say that I've now received his newest tool, The Ultimate AirGraver. This graver is simply lovely in styling, comfort, performance, and versatility making this tool a superb piece of graver technology.

Cutting is silky smooth and the piston stroke adjustment is on the exterior barrel of the graver making it possible to alter impact power on the fly and if desired without raising the graver from its cutting path. The exterior adjustment ring enables impact rate and power changes by adjusting the internal piston.

The impact adjustment ring makes it possible to re-index the ring position with thumb and index finger. By adjusting the PSI setting, the external ring, and foot throttle to control airflow, the engraver has maximum control of the tool. It can be easily slowed down in impact rate, cutting speed, and reduced in power work on the most delicate materials such as cutting jewelers wax or rapidly ramped up in power to handle cuttung the toughest stainless steel. The entire impact system consists of, Controller, Air Regulator valve, and AirGraver


In the very first models, changing the piston stroke distance required making an internal adjustment and though reasonably quick to do so more often than not the engraver would simply continue under the current settings unless the job demanded the change.

The exterior stroke adjustment ring completely eliminates wasted time and allows us to use the correct stroke power anytime we need it without compromise or delay. The Ultimate also delivers enhanced power, smoother operation, and improved hand comfort and is sleeker in design.

The new rubber handle is incredibly comfortable, various other handles are available in a variety of materials though by default the graver now comes with the rubber handle with a proper traditional feel. The idle on this model is improved and is ultra smooth so it cannot be felt when properly set. The dual regulators and needle valve are now integrated into one easy mountable unit with its own shut off air valve. Tubing has been reduced from previous models and overall tuning and responsiveness of this tool is simply exceptional.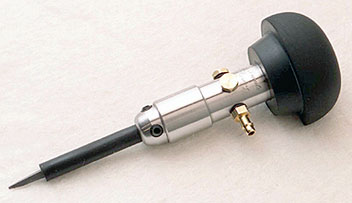 I cut 416 stainless steel like it was butter and I was only set at a low PSI and short piston stroke. So many advancements have been made on this model that I believe The Ultimate AirGraver to be hands down the finest pneumatic engraving tool yet. I highly recommend it to both professionals and hobbyist alike.

Visit AirGraver.com for specifications








The above image is an enlargement of a 3/16" area of a curved titanium Fountain Pen. The AirGraver's control is clear when one considers that there are 1/16" to 1/8" leaves on this pen containing more then 120 shaded lines in cross hatched form. The entire relief background was solely cut using the AirGraver and a Lindsay Carbide graver.
Click for Lindsay Ultimate AirGraver Concise Review #4