Concise review #2 of the Classic & Chasing AirGravers after long term usage
by Engraving Artist: Adone T. Pozzobon March 2002
I've completed a pair of .600 calibre nitro express barrels using the Lindsay Classic AirGraver and I'm pleased to say it performed admirably during the fifty hours of heavy engraving on these barrels. I set the Classic to 10 PSI with a short stroke and with porting virtually closed down. I reduced power by approximately 20% finding it more than sufficient to do the job and produce an excellent clean cut.

The Classic Airgraver feels great performing wonderfully even in more delicate areas. It scored high points across the board including for fine shading. In all honesty I simply cannot find a single area that this graver does not excel in, including workmanship quality of fit, ease of disassembly, cleaning and reassembly and even ergonomics of design.

I have used many different tools and while all were pretty good some noticeably better than others but they all suffered some deficiency, some were not comfortable, others felt clumsy and poorly conceived, while others being better suited for one type of work and not so great for another. In most cases the tools lacked flexibility being designed to perform a task and being far less concerned with all the other factors that are critical to an artist, comfort, size, versatility, customization, and if possible elegance. The classic is all that!

When I use any of the Lindsay Airgraver tools the experience is one of pure satisfaction. The Airgravers are not mass produced products they are each created with attention and personal care. From my personal experience and extensive communication with Steve Lindsay over many years I know that each and every AirGraver is treated as a special order. When these tools leave his studio they do so as art.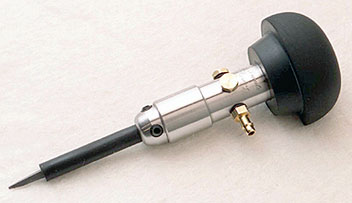 When it comes to customer service I feel there is nothing lacking. Steve Lindsay's policy is to always have spare AirGraver tools on hand just in case a client cannot wait while repairs take place. As a professional engraver he understands the needs and demands placed on artists and as such he assures support of his product.


At the time of writing this I had been using an original Chasing AirGraver for more than two years and a Classic AirGraver for approximately eight months. Though designed for light work the Chasing AirGraver has produced many engravings. It has seen close to three thousand hours of engraving and runs as new.

Approximately every fifty or sixty hours I drop out the piston and pass a Q-tip through the inner chamber to clean the interior of the barrel and insure smooth operation for the piston since all airlines over time impart small amounts of moisture or oil particles not trapped by filters.
I put this tool through its paces. It has seen full throttle 60 PSI wide open stroke impacts into case hardened steels shattering graver tips. I've tested it on titanium in several grades, and 01 tool steel, D2, 440 stainless, 416 stainless, 316 stainless and a host of more exotic gun alloys.

The Chasing AirGraver is the smallest in the fleet and it has engraved several complete rifles heavily decorated as well as many knives, yet its internal components barely show indications of ever being used. I now look forward to receiving my newer version of the Classic AirGraver that is soon to arrive.

Adone Galleries / EngravingArts.com




This .600 Nitro Express was engraved using the Lindsay Classic AirGraver. The engraving coverage spans 8" x 5/8" along the top rib plus a 3" rear ramp and an additional 4" front ramp for a total 15" strip. In addition, it included are the 2 1/2" x 2" breech decorations on each barrel and each lettered. This amounts to a lot of engraving likely being the equivalent to seven or eight smaller knife engravings.

The design is cut in shallow relief with high contrast shading. The Dark contrasts are natural as these barrels are "in the white". The Classic AirGraver performed effortlessly in all areas producing smooth and accurate cutting. I used two square gravers, one for the major cutting and the other for shading and the only difference between the two is tip size.

The graver blanks I use are the Lindsay Carbide, Cobalt Graver steel mixture and are so good that I only required sharpening twice throughout the entire barrel engraving. The combination of the Lindsay Airgravers and his graver steel blanks mark a radical improvement in modern engraving technology.


Click for Lindsay Ultimate AirGraver Concise Review #3





Rings | Home | Galleries | Site Index | Artist Bio | Contact

All content Copyright © Adone Galleries - EngravingArts